Refine, revitalize, refresh--a statement all may need to be reminded of during the next few months. With summer finally upon us, we are all eager to spend as much time in the pleasantly warm sun as possible. There is nothing like a walk in the park with an ice cream cone or setting up a chair on the beach or near the pool on a hot summer day. Although in a few months, this era of bliss will end, we need to spend as much time keeping our skin healthy and avoid too much time in the sun.
Generally speaking, overexposure to ultraviolet light can lead to unwanted damage to the skin and its connective tissues. Dryness and cracked skin then become an issue that must be dealt with early to prevent any major issues. Although these words may be somewhat intimidating and terrifying, there are methods to minimize the effects the weather outdoors may have on your skin.
Luckily, the Medical Aesthetics Regenerative Center (MARC) located in Gastonia, North Carolina has an abundance of skincare products and routines for you to choose from. While MARC's commodities do not all deal with sun recovery, they are designed to aid the skin and allow it to reclaim its normalcy. Each product is tailored to your skin type and recommended by our skin specialists after each appointment. The Xeomin specials offered in June are truly revitalizing and are once in a lifetime kind of deals.
Why Xeomin?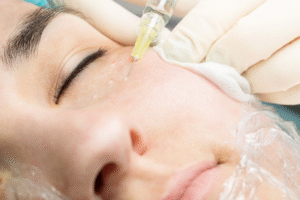 Looking for a smooth sailing experience to get rid of those lines or bags? Well, MARC has an answer. Say goodbye to your under-eye with Xeomin injections. Through organic, non-artificial means, Xeomin injections are proven to be a much healthier alternative to stereotypical botox treatments. Through injections into the muscles of patients, the Xeomin medication greatly improves the look of harsh and moderate frown lines and bags in the face. MARC offers a plethora of Xeomin injection options, highlighted within the new June specials. Other than the under-eye injections, this month, MARC offers Xeomin treatments for the forehead, face, and skin. The June specials are limited-time deals, so hurry and sign up through the MARC website or call our number.
Have as much fun in the sun as you would like, but, when necessary, pay MARC a visit to reclaim your healthy and vigorous skin.
---
Related Topics: Xeomin, Anti Aging Treatments, Aesthetic Rejuvenation, Botox (Botulinum Toxin) Injections, Esthetics, Facial Rejuvenation Treatments, Neurotoxin Injections, Skin Rejuvenation Treatments