Back Pain Prevention and Stem Cell Therapy Lunch and Learn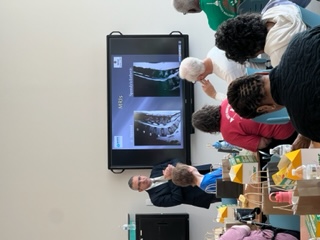 Dr. William Hunter was the featured speaker for a Lunch & Learn at the Warlick YMCA (Gaston County Family YMCA) last week. There was a great turnout, as 35 people attended the educational event. Dr. Hunter spoke on behalf of both NSSC Spine Clinic (Neuroscience & Spine Center of the Carolinas) and the Medical Aesthetics Regenerative Center (MARC), discussing important topics related to spine health and back pain prevention, as well as stem cell therapy.
Prevention of Back Pain / Spine Health
Back problems and related back pain can be extremely debilitating, especially as an individual grows older. Dr. Hunter provided education and discussed common back problems, the anatomy of the spine, treatments for back pain including physical therapy as well as the importance of exercise, stretching, and working on core strength for spine health. He also stressed the importance of good nutrition and stress management, for overall spine and body health - "A body in motion stays in motion."
Additionally, Dr. Hunter discussed common back surgeries and how many back and spine surgeries can now be done on a minimally invasive, outpatient basis.
Stem Cell Therapy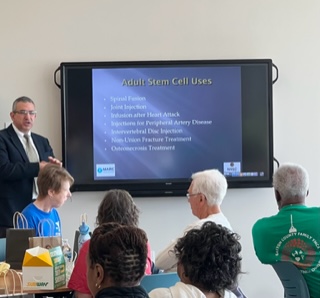 Doctor Hunter then discussed how he has been using stem cell treatments and injections as part of his spinal fusion surgeries since 2008 to assist in the fusion of bone and recovery. Furthermore, Dr. Hunter has been doing stem cell therapy, which can regenerate damaged tissue and reduce pain, for joints such as the knee, hip, and shoulders. Dr. Hunter discussed the benefits of stem cell therapy, as well as the difference between platelet-rich plasma (PRP) injections and Stem cell injections.
Finally, the presentation ended after a long Question and Answer session by Doctor Hunter and the staff from the NSSC Spine Clinic and MARC.
Medical Aesthetics Regenerative Center (MARC)
MARC specializes in personalized treatments utilizing innovative technologies and the latest advances in science, medicine, and holistic healthcare, including stem cell therapy, weight management, aesthetic rejuvenation, botox neurotoxin injections, PRP, microdermabrasion and more. MARC has been serving Gastonia and the broader Charlotte, North Carolina area including Belmont, Mount Holly, Gaston County, Mecklenburg County, and portions of South Carolina for over 15 years. To learn more, contact us today.
Dr. William Hunter, Back And Spine Specialist

If you are concerned about back or neck pain you've been experiencing, make an appointment with Dr. Hunter, spine specialist and neurosurgeon at NSSC Spine Clinic. He has the experience and expertise needed to treat all types of back pain. The NSSC Spine Clinic has been serving Gastonia and the broader Charlotte, NC for over 22 years.
---
Related Topics: Dr. Hunter News, Stem Cell Therapy, Stem Cell Injections, Stem Cell Treatments, Stem Cell Injection Knee, Stem Cell Therapy for Pain, Joint and Knee Pain, Platelet Rich Plasma (PRP) Therapy, Back and Lower Back Pain