Dr. William D. Hunter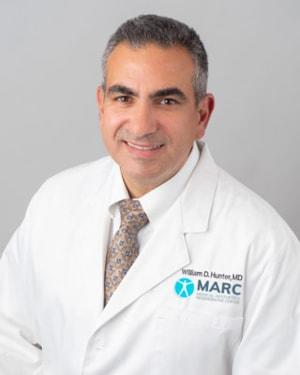 Dr. Hunter has been practicing neurosurgery in the greater Charlotte area for over two decades. He has a Masters Degree in Physiology and Biophysics from Georgetown University in Washington, DC. He subsequently attended Georgetown Medical School, where he also completed his residency. Following residency, Dr. Hunter joined the University of Wisconsin as an assistant professor where he trained neurosurgery residents and medical students. He continues to pave the way in neurosurgery with innovative minimally invasive spinal surgical techniques locally and around the world.
Over 10 years ago, Dr. Hunter developed a keen interest in regenerative medicine. He saw how stem cell therapy, in particular, was beneficial to his spinal surgery patients and promoted improved outcomes. This observation prompted him to expand his expertise and further his knowledge in this cutting-edge area of medicine. After years of refining his techniques, Dr. Hunter has assembled an expert team to implement his goals in serving the community in the area of regenerative medicine. Dr. Hunter is excited to utilize his skills and vigor to bring expert care to the community.